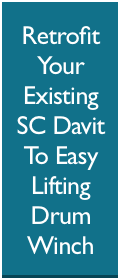 Davits, Euro Helm Seating and Cranes make your boating safe and enjoyable. Whether you own a powerboat or a sailboat, you can bring your tender, dinghy or personal watercraft on your cruise with style and ease. Our Euro Helm seating makes the ride in your dinghy more comfortable than you thought possible.
Explore our website to find out about all the products and accessories we offer. You'll find photos of our products in use as well as technical drawings and detailed descriptions. The custom applications page shows the talent of our engineering department.
Enjoy our website. You'll be glad you stopped to take a look. We're glad you found us and we thank you for your business.
We continue to build a tradition of nautical excellence, innovative design and proven quality . . . One Customer at a Time.